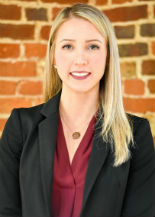 Location:
Annapolis, Maryland
Phone:
888.268.5515
410-268-5515
Fax:
410-268-2139
Email:
Suzanne Houle is an attorney with Cochran & Chhabra, LLC. Ms. Houle is barred in Maryland, the District of Columbia, and the United States District Court of Maryland. Ms. Houle's primary focus is on criminal defense and serious traffic matters.
In her last year of law school, Ms. Houle was a student attorney in a juvenile justice clinic, which changed her life. She worked with underprivileged juveniles, representing them through entirety of the juvenile justice process. That clinical experience made Ms. Houle realize that her calling in life was to be a criminal defense attorney, and to be there for people in their time of greatest need. Ms. Houle is passionate about her cases, and her clients, and has developed a reputation as an attorney that has a lot of heart and one that goes above and beyond for her clients.
Prior to joining Cochran & Chhabra, LLC, Ms. Houle had an extensive criminal practice in Baltimore City, Baltimore County, and Howard County and handled hundreds of criminal and traffic cases across the State of Maryland. After several years maintaining her own practice, Ms. Houle wished to practice with the best criminal defense attorneys in Maryland, so she sought out Cochran & Chhabra because of their reputation for excellence.
Ms. Houle has been very active in the Maryland legal community. She's a member of the Maryland Criminal Defense Attorney's Association, and has chaired the Mentorship and Special Projects Committees of the Maryland State Bar Association, Young Lawyer's Division. Ms. Houle has been recognized as a Rising Star in Super Lawyers Magazine since 2014. In 2013, she received the Howard County Bar Association Service Award. Ms. Houle's writings include Juvenile Justice is Not Just Kid Stuff: The Forgotten Side of Fairness and Due Process, 9 Dartmouth Law Journal 87 (Fall 2011).
.
Ms. Houle earned her Juris Doctorate from the University of North Carolina, Chapel Hill, and her Bachelor of Arts in Psychology from the University of Maryland, College Park. She grew up in Prince George's County and graduated from Good Counsel High School in Montgomery County. Suzanne currently resides in Baltimore City with her husband, Brian, and two dogs, Roxy and Jackson. In her free time, she enjoys boating on the Bay with friends and retreating to Ocean City, Maryland on the weekends.
Free Initial Consultations | Available 24/7 | Se Habla Español
Phone:

410.268.5515

Toll Free:

888.268.5515