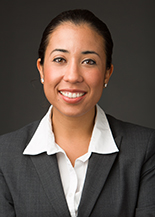 Location:
Annapolis, Maryland
Phone:
888.268.5515
410-268-5515
Fax:
410-268-2139
Email:
Raquel Smith is an associate with Cochran & Chhabra, LLC. Ms. Smith is barred in Maryland and focuses her practice on serious criminal and traffic matters. Ms. Smith decided to pursue a career in law after interning with a non-profit legal services provider in Prince George's County, MD. While interning, she witnessed the difficulties unrepresented litigants experienced attempting to navigate Maryland's legal system. Thereafter, she knew she would focus her career on assisting those in the midst of the legal system obtain the best possible results.
Ms. Smith was "hand picked" by Gill Cochran and Mandeep Chhabra based on her extensive knowledge in both criminal defense and civil litigation. Moreover, Ms. Smith's philosophy of making the client the number one priority fit perfectly into the "Not your typical lawyer…" model that both Mr. Cochran and Mr. Chhabra have developed together over the last 22 years. She also maintains the love of the law that the firm aspires to maintain.
Prior to joining Cochran & Chhabra, LLC, Ms. Smith had extensive experience in handling hundreds of criminal and traffic cases and represented litigants in domestic violence civil hearings. She has earned the reputation of being an aggressive but amicable litigator among her peers. The majority of her clients are Spanish-speakers and she prides herself on effectively communicating the nuances of the legal process to her clients and making that process less stressful.
Ms. Smith is a member of the Maryland Criminal Defense Attorneys' Association, the Montgomery County Bar Association and the Maryland Hispanic Bar Association. In addition to her involvement with these associations, she is a member of a non-profit organization aimed at providing educational opportunities to under-served Latino youth in the Metropolitan Washington Area.
Ms. Smith earned her Juris Doctorate from the American University, Washington College of Law in Washington, D.C. and her Bachelor of Arts in History from the University of Maryland, College Park. She is a lifelong resident of Montgomery County, graduating from Georgetown Visitation College Preparatory School in Washington, D.C. She speaks fluent Spanish and is of Chilean and Jamaican descent. In her spare time, she enjoys cooking, travelling and spending time with friends.
Free Initial Consultations | Available 24/7 | Se Habla Español
Phone:

410.268.5515

Toll Free:

888.268.5515